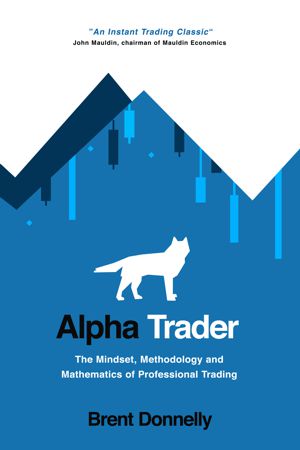 Books
Alpha Trader: The Mindset, Methodology and Mathematics of Professional Trading
On this page
Praise for Alpha Trader
I couldn't put this book down! Brent has done an amazing job capturing the challenges that traders face on a daily basis and how best to navigate today's markets.

It is an essential read for anyone who is interested in managing money and the behavioral psychology behind those who "make the market!" Brent shows himself to be as skillful an author as he has been one of the leading players in global foreign exchange! Well done!

- Ben Melkman, founder and CIO of Light Sky Macro

Brent has been on my must-read list for years. This book is no exception. ALPHA TRADER is an instant trading classic.

- John Mauldin, president of Mauldin Economics


Alpha Trader is one of the most intuitive books about applied trading psychology and rational behavior. It is a masterpiece that puts you in control of your trading.

- Saed Abukarsh, partner at Ark Capital Management (Dubai)

Brent is a smart, balanced and hyper-pragmatic trader. I have known and worked with him for years, and his constant search for new paradigms is what sets him apart. ALPHA TRADER is a very, very valuable book which may save young (and old) traders from significant emotional (and monetary) pain.

- Jens Nordvig, world-renowned currency strategist, economist and founder of Exante Data

Brent's book is an honest assessment of what is required to be successful in the markets. Successful traders have a process that is not canned or rigid... Because markets are not.

If you are serious about making it as a full-time trader, ALPHA TRADER is the book you need to read. It's an honest take on what you will need to do and expect to make it like a pro.

- Dave Floyd, founder of the Aspen Trading Group

Brent has been trading for 20 years and you should listen to anyone who has been trading that long. Over the course of a 20-year career, a trader will experience at least 50 major panics, crashes, and dislocations. Having the wrong exposure to one of these means the end of your career. Trading isn't about getting rich; it's about staying alive.

- Jared Dillian, publisher of the Daily Dirtnap and regular Bloomberg contributor
Book preview - Alpha Trader: The Mindset, Methodology and Mathematics of Professional Trading
Trading is a chaotic, complex, and loosely-structured game played by the smartest minds and most expensive computers in the world. It is the ultimate puzzle. Few can trade at an elite level for an extended period. The game is constantly changing and the rules, mechanics, and probabilities are difficult to observe and forever in flux. Just when you think you've got a plan: BAM.
You get punched in the mouth.
Trading attracts intelligent, driven individuals who see enormous financial rewards and few barriers to entry. But no amount of intelligence or skill is enough if you are irrational, undisciplined, or overconfident. The best analysis is useless if you keep reaching for the self-destruct button. How do you survive and excel in this high-stakes competition? How do you become an Alpha Trader?
The answer is mindset, methodology, and math.
ALPHA TRADER is not a behavioral economics textbook and it is not a boring, theoretical deep dive into trading psychology. It's a practical guide full of actionable information, exciting and relevant trading floor stories, concisely-distilled research, and real-life examples that explain and reinforce critical concepts. The book details the specific strategies, tactics and habits that lead to professional trading success. It will help you become more self-aware, rational, and profitable.
This book will make you a better trader. It will help you unlock more edge and it will motivate you to become an expert in your market. It covers practical and essential topics like strategy vs. tactics, microstructure, market narrative, technical analysis, sentiment, positioning and systematic risk management. It will explain the importance of adaptation, rational thinking, behavioral bias, and risk of ruin.
Brent Donnelly, the author of ALPHA TRADER, has been a professional trader for more than two decades and has been writing about macro and markets for more than 15 years. His writing style is engaging, approachable and entertaining and he has the experience and knowledge of a veteran professional trader. His first book, The Art of Currency Trading is a bestseller and has received rave reviews.
Brent has worked as a senior FX dealer at some of the biggest banks in the world. He has traded global macro for a Connecticut hedge fund, and he has day traded equities with his own money. He loves trading and he loves writing about it.
ALPHA TRADER is for traders of every skill and experience level. Veterans and rookies alike will benefit as the book digs into topics like self-awareness, discipline, endurance, and grit. Learn the common traits of winning traders, the myriad sources of trader kryptonite, how to improve your decision-making, and how smart people do stupid things, all the time.
Professional trading is a lifelong journey of self-improvement, struggle, adaptation, and success. This book will help you level up on that journey.
Be rational and self-aware.
Learn, adapt, and grow.
Unleash the Alpha.

What is the book about?
The book is about the specific mindset, methods, and math you need to achieve long-run success as a professional trader.
Part One digs into the equation that determines success or failure in trading. I go through the research and my own experience and try to find the general equation for trading success. Part One will challenge you to think about where you match or diverge from the Alpha Trader profile. This section studies the general recipe for long-term success in life and trading.
Part Two is about why some traders win and others lose. It goes in depth to unpack specific traits and attributes that lead to winning and losing in trading. I hope you will identify some of these winning traits and vulnerabilities in your own character and learn from the strategies I present to build strengths and work on weaknesses. Part Two ends with a look at how smart people do stupid things and provides a ton of examples and perspective on behavioral finance and trader bias.
Part Three is the most fun. It is all about methodology. In Part Three, we talk about how to become an expert in your market and how to achieve sustainable, long-term professional trading success. I go through how to think about narrative and fundamental analysis and how to use this knowledge to better forecast short-term market direction and make more money. We dig deep into topics like microstructure, market narrative, technical analysis, sentiment and positioning, self-discipline, and the mathematics behind variance and risk management.
Then, we spend a chapter bringing it all together with a detailed walkthrough of a real trade that will give you a step-by-step look at my thought process from start to finish. By the end of Part Three, you will have detailed knowledge of how I structure trades and you can use that knowledge to develop or improve your own methodology.
Finally, Part Four is all about healthy mindset. I write about how you can adapt and continuously improve with a focus on self-awareness, perspective, and metacognition.
The book is full of anecdotes, examples, and stories from behind the screens to give you a clear understanding of how I put the strategies and tactics described throughout the book to work in real life.
If you have any questions, hit me up on Twitter or LinkedIn and I will be happy to answer.
Enjoy!
Table of contents
Foreword by Dr. Ben Hunt
A quick story
Introduction
PART ONE: WHY DO SOME TRADERS SUCCEED, BUT MOST FAIL?
Chapter 1: Know yourself
Good traders are introspective and self-aware
Chapter 2: If it was easy, it wouldn't pay so well
Research shows success in trading is difficult to achieve and sustain
Chapter 3: Understanding success
Success and high performance in the world outside of trading
Chapter 4: So you're saying there's a chance?
Why some traders succeed but most fail
PART TWO: THE ALPHA TRADER MINDSET
Chapter 5: Level up
The traits and habits you need to succeed
Chapter 6: Kryptonite
Bad behavior, poor discipline, sloppy thinking, and leaks
Chapter 7: Smart people do stupid things
Rational, unbiased trading
PART THREE: METHODOLOGY AND MATHEMATICS
Chapter 8: Understand microstructure
Step one towards becoming an expert in your market
Chapter 9: Understand narrative
Step two towards becoming an expert in your market
Chapter 10: Understand technicals, sentiment and positioning
Step three towards becoming an expert in your market
Chapter 11: You feeling lucky, punk?
Data collection, risk management and variance
Chapter 12: Bringing it all together
The lifecycle of a trade, from idea to execution to exit
PART FOUR: ADAPTATION AND ATTITUDE
Chapter 14: Adapt or die
Stay flexible and achieve long-term trading success
Chapter 15: Thank God it's Monday!
It is impossible to succeed without the right attitude
Conclusion
One last story
Coda
Acknowledgements
Appendix A: Further Reading
Appendix B: 21 ways to succeed at trading and 13 ways to fail
Bio - Brent Donnelly
Brent Donnelly has been trading currencies since 1995 and writing about macro since 2004. He is currently President of Spectra Markets. Brent is the author of Alpha Trader (2021) and The Art of Currency Trading (Wiley, 2019). He writes a widely-read and highly-respected macro and FX daily called AM/FX. Over the course of his career, he has been a market maker, trader, and senior manager at some of the top banks in foreign exchange.
He has extensive experience trading currencies, FX options, stock index futures, NASDAQ stocks, and commodities. Brent is a respected macro thinker with the unique perspective of a senior risk taker. He has been quoted by or featured in the Economist, Real Vision, Epsilon Theory, the Wall Street Journal, Financial Times, Bloomberg, and CNBC.
Before joining Spectra, Brent was a senior FX trader at HSBC, head of G10 Spot Trading at Citi New York and global head of G10 FX Trading at Nomura New York. He was also a portfolio manager at a major hedge fund in Connecticut for three years. He created and wrote a cartoon called ''Daft Planet,'' which aired on TV in Canada, and he dreams of one day winning the Man Booker Prize.